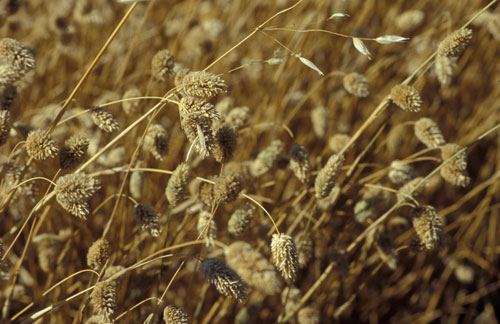 Canary seed grass is a native of a Mediterranean region. It is used mostly as a bird food, but it can be used for human consumption also. It might cause an esophageal cancer though, if you are not careful, unless you use spike less variety. Microscopic spikes of canary seeds annoy /kill esophageal cells, so their neighbors have to breed faster, and as a result the chance for cancerous mutation is bigger. Right now canary seed is used as food by North Africa, Italy, parts of Spain and Mexico.
Only 12 countries are growing canary seed / alpiste commercially according to FAO.org, but the number is more likely to be 10 as Morocco and Netherlands apparently are out of the picture of the canary seed business. Biggest producer both by volume and per capita is Canada, 141 900 t of canaryseed produced in 2009. That's about 4.13 kg of canary seed per Canadian. Worldwide, 196 150 tonnes were produced (2009), or 28.4 grams per potential consumer.
World crop could provide nutrition for about 1 mln people.
213 619 hectares were used for canary seed production in 2009 , a territory close to the size of Comoros islands.
List of all articles at Ironrye:
http://ironrye.blogspot.com/2011/10/list-of-all-articles-at-iron-rye.html
Best crop ever was in 2004 (378 042 tonnes), worst since 1961-- 47 408 tonnes (1966)
Best global yields were 1212.9 kg/ha in 1990, worst since 1961-- 664.6 kg/ha in 1977.
Record yield belongs to Czech republic , 3500 kg/ha, on some small experimental field. Aside of that, top yield was 1742.8 kg/ha in Turkey (2006)
Canaryseed costs around $1000 per ton, world crop is about $ 190-210 million worth.
Production by country, 2007 2008 2009
| | | | | | | | |
| --- | --- | --- | --- | --- | --- | --- | --- |
| Argentina | Canary seed | 9050 | | 10023 | | 9763 | |
| Australia | Canary seed | 4000 | F | 5000 | F | | M |
| Canada | Canary seed | 162000 | | 195600 | | 141900 | |
| Czech Republic | Canary seed | 700 | | 700 | | | M |
| Hungary | Canary seed | 5972 | | 12343 | | 5389 | |
| Mexico | Canary seed | 183 | | 227 | | | M |
| Morocco | Canary seed | 0 | F | 0 | F | | M |
| Netherlands | Canary seed | | M | | M | | M |
| Spain | Canary seed | 70 | F | 70 | F | | M |
| Thailand | Canary seed | 30000 | F | 30000 | Fc | 30000 | Fc |
| Turkey | Canary seed | 62 | | 17 | | 61 | |
| Uruguay | Canary seed | 2800 | F | 3040 | F | | M |
| World + (Total) | Canary seed | 214837 | A | 257020 | A | 196150 | A |