Genetic tests show that potato-farming started between 3000BC and 2000BC in Peru. To this day this crop is of utter importance to Peruvians, as each consumes on the average 530 potatoes per year. Potato is a number 4 crop worldwide, after wheat, rice, and maize. China was the biggest producer, (over) 69 059 652 tonnes produced in 2009. China increased its potatoes production over 5 times compared with 1961, and they've been a leading producer at least since the fall of Soviet Union in 1991.
Major producer and major consumer per capita is Belarus, they produced 751 kg, or 1667 pounds per capita in 2009. Average Belorussian (yes, including babies) eats 381-400 kg of potatoes per year. 1.85% of Belarusian territory is used for potato farming, which is also a record.
In 2009 , 329 556 911 tons were produced worldwide. If we 'd put 1-foot deep sacks of potatoes with this crop together, it would cover a field 248 miles long and 10 miles wide.
It comes out to 48.4 kg , or 107.5 pounds of potatoes per potential consumer of 2009. If you would decide to eat nothing but your "share" of potatoes, it would last you over 18 days at 2000 calories per day.
Worldwide, potatoes can feed 348.4 million people for an entire year , or an entire population of United States, Saudi Arabia and Barbados combined. There is enough protein for 360 million people.
In 2009, 18 326 242+ hectares were under potato production. That's a territory slighter smaller than Syria, and slightly larger than Cambodia or North Dakota. It is also almost 1.17% of all arable land in the world.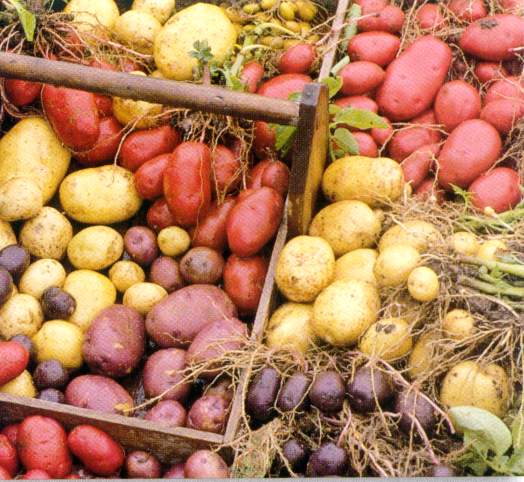 Best crop world wide was in 2004, 336.25 million tonnes, worst, since 1961-- in 1980, 240.46 million tonnes.
Best yields world wide were in 2008, 18 004.7 kg/hectare , worst, since 1961--12 216.6 kg/ha ( 1961)
Record yield belongs to Belgium, over 49.1 tonnes per hectare (1993)
Land usage : today we use about 82% of what we used in 1961.
Seeds: about 32.1 million tonnes of potatoes were used as seeds.
World crop is estimated to be $60-70 billion worth.
List of all articles at Ironrye:
http://ironrye.blogspot.com/2011/10/list-of-all-articles-at-iron-rye.html
Production by country:


item
2007
2008
2009
Afghanistan

Potatoes

300800

280000




M

Albania

Potatoes

154900

190000

200000

Algeria

Potatoes

1506859

2171058

2636057

Angola

Potatoes

491216

402207

823266

Argentina

Potatoes

1950000

F

1950000

F




M

Armenia

Potatoes

579571

648562

593551

Australia

Potatoes

1211988

1400206

1178534

Austria

Potatoes

668755

756945

722098

Azerbaijan

Potatoes

1037317

1077110

982979

Bahamas

Potatoes




M




M




M

Bahrain

Potatoes

23

23

F




M

Bangladesh

Potatoes

5167000

6648000




M

Belarus

Potatoes

8743976

8748630

7124981

Belgium

Potatoes

3189817

2943205

3296400

Belize

Potatoes

478

865

1065

Benin

Potatoes

30

F

30

F




M

Bermuda

Potatoes

1100

F

1100

F




M

Bhutan

Potatoes

61133

61133

F




M

Bolivia (Plurinational State of)

Potatoes

735254

747968

762719

Bosnia and Herzegovina

Potatoes

387239

428635

413658

Brazil

Potatoes

3550510

3676938

3434587

Bulgaria

Potatoes

298722

353060

231745

Burkina Faso

Potatoes

1700

F

1700

F




M

Burundi

Potatoes

26693

26693

F




M

Cameroon

Potatoes

142000

F

142000

F

142000

F

Canada

Potatoes

4999424

4724460

4581123

Cape Verde

Potatoes

3800

F

3800

F




M

Central African Republic

Potatoes

1000

F

1000

F

1000

F

Chad

Potatoes

67466

42200




M

Chile

Potatoes

834223

965767

924555

China

Potatoes

64837389

68759652

*

69059652

F

Colombia

Potatoes

2823362

2372862

2272772

Comoros

Potatoes

600

F

600

F

600

F

Congo

Potatoes

4300

F

4500

F




M

Costa Rica

Potatoes

66050

66126

73606

Côte d'Ivoire

Potatoes




M




M




M

Croatia

Potatoes

296302

255554

270251

Cuba

Potatoes

143700

196100

278600

Cyprus

Potatoes

155500

115000

131800

Czech Republic

Potatoes

820515

769561




M

Democratic People's Republic of Korea

Potatoes

1900000

F

1520280




M

Democratic Republic of the Congo

Potatoes

93560

93980




M

Denmark

Potatoes

1625580

1705403

1750000

F

Dominica

Potatoes

120

F

120

F




M

Dominican Republic

Potatoes

41794

33035




M

Ecuador

Potatoes

317221

266722

286790

Egypt

Potatoes

2760460

3567050

4000000

F

El Salvador

Potatoes

5178

5748

5326

Eritrea

Potatoes

1022

1000

F

1050

F

Estonia

Potatoes

191754

125200

139050

Ethiopia

Potatoes

525657

402508

384046

*

Faroe Islands

Potatoes

1400

F

1400

F




M

Fiji

Potatoes

80

F

80

F




M

Finland

Potatoes

701600

684400

755300

France

Potatoes

7183100

6808210

7164200

French Polynesia

Potatoes

600

F

600

F




M

Georgia

Potatoes

229200

193400

216700

Germany

Potatoes

11643769

11369000

11617500

Greece

Potatoes

943196

848000

848000

Guadeloupe

Potatoes




M




M




M

Guatemala

Potatoes

451673

451673

F




M

Guinea

Potatoes

11876

12167




M

Haiti

Potatoes

14500

15000




M

Honduras

Potatoes

23650

29326

31379

Hungary

Potatoes

563100

683935

560615

Iceland

Potatoes

13000

12500

9500

India

Potatoes

28599600

34658000

34391000

Indonesia

Potatoes

1003730

1044492

1174668

Iran (Islamic Republic of)

Potatoes

4026412

4706722

4107626

Iraq

Potatoes

598000

348773

223147

Ireland

Potatoes

398960

371900

361300

Israel

Potatoes

618803

557917

608832

Italy

Potatoes

1781648

1603828

1753200

Jamaica

Potatoes

7477

4929




M

Japan

Potatoes

2873000

2743000

2785000

F

Jordan

Potatoes

97400

139787

118705

Kazakhstan

Potatoes

2414800

2354408

2755600

Kenya

Potatoes

850000

F

600000

F

400000

Kuwait

Potatoes

23500

F

23500

F




M

Kyrgyzstan

Potatoes

1373780

1334900

1393135

Lao People's Democratic Republic

Potatoes

36000

F

36000

F




M

Latvia

Potatoes

642100

673400

525400

Lebanon

Potatoes

514600

514600

F




M

Lesotho

Potatoes

93000

F

96500

F




M

Libyan Arab Jamahiriya

Potatoes

290000

290000




M

Lithuania

Potatoes

576100

716400

662500

Luxembourg

Potatoes

19968

21756

20044

Madagascar

Potatoes

225000

F

225000

F




M

Malawi

Potatoes

2858811

2993818




M

Mali

Potatoes

114478

120000

F




M

Malta

Potatoes

14146

19000

10069

Martinique

Potatoes




M




M




M

Mauritania

Potatoes

2200

F

2200

F




M

Mauritius

Potatoes

15367

14868

19828

Mexico

Potatoes

1750797

1670480




M

Mongolia

Potatoes

114490

134773

151211

Montenegro

Potatoes

106909

110000

F




M

Montserrat

Potatoes

150

F

150

F




M

Morocco

Potatoes

1437215

1536560




M

Mozambique

Potatoes

100000

F

100000

F




M

Myanmar

Potatoes

470700

470700

F




M

Nepal

Potatoes

1943246

2054817

2424048

Netherlands

Potatoes

6870400

6922700

7181000

New Caledonia

Potatoes

1803

1773

1488

New Zealand

Potatoes

432000

F

473000

F

490000

F

Nicaragua

Potatoes

33000

F

33000

F




M

Niger

Potatoes

32300

22620




M

Nigeria

Potatoes

662000

1105000




M

Norway

Potatoes

329765

398400

332700

Occupied Palestinian Territory

Potatoes

62840

69180




M

Oman

Potatoes

9067

9067

F




M

Pakistan

Potatoes

2581500

2539000

2941300

Panama

Potatoes

23688

22314




M

Papua New Guinea

Potatoes

900

*

900

F




M

Paraguay

Potatoes

1300

F

1250

F

1300

F

Peru

Potatoes

3388000

3578900

3716700

Philippines

Potatoes

118497

121311

119159

Poland

Potatoes

11791072

10462100

9702800

Portugal

Potatoes

638900

566600

519300

Qatar

Potatoes

44

44

F




M

Republic of Korea

Potatoes

574396

604592




M

Republic of Moldova

Potatoes

199400

271039

261000

Réunion

Potatoes

6000

7000

*




M

Romania

Potatoes

3712410

3649020

4003980

Russian Federation

Potatoes

36784200

28874230

31133960

Rwanda

Potatoes

967000

1162000

1200000

F

Saint Kitts and Nevis

Potatoes

126

239




M

Saint Pierre and Miquelon

Potatoes

0

*

0

F




M

Saudi Arabia

Potatoes

463000

447000




M

Senegal

Potatoes

10000

2825

3000

F

Serbia

Potatoes

743282

843545

898282

Slovakia

Potatoes

287667

245277

216123

Slovenia

Potatoes

131050

100319

103425

South Africa

Potatoes

1972391

2098581

1819250

Spain

Potatoes

2479582

2365500

2480800

Sri Lanka

Potatoes

77390

74820

61700

Sudan

Potatoes

263900

273000

284000

Swaziland

Potatoes

6000

F

6000

F




M

Sweden

Potatoes

789000

853200

854300

Switzerland

Potatoes

491000

473000

517000

Syrian Arab Republic

Potatoes

570128

720492

709601

Tajikistan

Potatoes

662093

679774

680000

F

Thailand

Potatoes

125703

114499

126386

The former Yugoslav Republic of Macedonia

Potatoes

180887

191106

207152

Timor-Leste

Potatoes

1000

F

1000

F




M

Tunisia

Potatoes

350000

370000

370000

F

Turkey

Potatoes

4246207

4196522

4397711

Turkmenistan

Potatoes

185000

F

240200




M

Uganda

Potatoes

650000

670000

689000

Ukraine

Potatoes

19102000

19545400

19666100

United Arab Emirates

Potatoes

7900

F

7900

F




M

United Kingdom

Potatoes

5635000

5999000

6423000

United Republic of Tanzania

Potatoes

650000

F

650000

F




M

United States of America

Potatoes

20179191

18826578

19569109

Uruguay

Potatoes

118362

106557

102287

Uzbekistan

Potatoes

1188000

1398700

1524500

Venezuela (Bolivarian Republic of)

Potatoes

456661

421016




M

Viet Nam

Potatoes

370000

F

370000

F




M

Yemen

Potatoes

249010

263945

278022

Zambia

Potatoes

14500

F

10524




M

Zimbabwe

Potatoes

40000

F

40000

F




M

World + (Total)

Potatoes

322412701

A

325558724

A

329556911

A